Emma Thompson is a tattoo artist in Vancouver, Washington. She sat down with us to talk about staying true to herself, fulfilling her dream of becoming a tattoo artist, and appreciating each step of the journey.

Hi Emma! Introduce yourself to the Tattooed Women community!
My name is Emma Thompson, and I have been tattooing for 2 1/2 years. I have wanted to be a tattoo artist since I was about 14 years old, so the fact that I am actually tattooing now is a total dream come true. I work at Neat Tattoo in Vancouver, Washington which is a women-owned and -operated tattoo shop.
My dream is to travel and tattoo all over the world, but the Pacific Northwest will always be my home. I have lived here all of my life and I absolutely love it.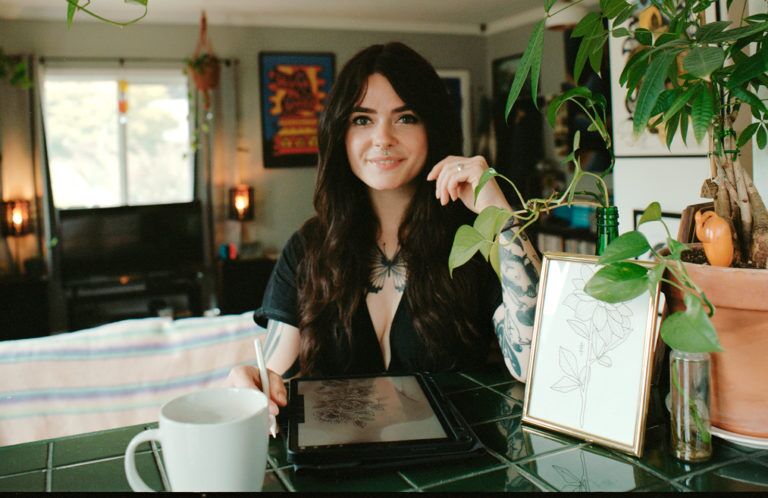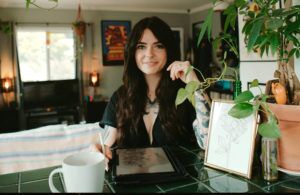 It's amazing that you knew you wanted to do this at such a young age. Were people receptive to that as a career path for you at that age, or did you kind of have to fight for your place?
Honestly, I really believe that my friends and family could see me as a tattoo artist very easily. I have always loved drawing, painting, and pretty much any medium I've ever been able to get my hands on. Art was part of my identity and I wore it somewhat loudly, always carrying a journal for drawing, and always having drawings on my arms.
Ever since I was young, tattooing always caught my eye as a medium I wanted to learn. I think I designed my first tattoo for someone at age 15. It just seemed to be a good fit from the get-go.
So how did you officially get started as a tattoo artist?
The first time I ever got tattooed, I talked to my artist (Ly Horisoda) about my dream to become a full-fledged tattoo artist. Seven years later, I went to get tattooed by his apprentice, and Ly told me to bring in my portfolio and apply to be his next apprentice! I was so thrilled and immediately did just that. He took me under his wing and I began my tattoo adventure.
I grew up in a super conservative, Christian home. My dad always discouraged any type of art career ("Become a doctor! Become a nurse!") but tattooing? Oh, man. That was a straight-up sin. I would constantly draw on my arms as a kid. I got a lot of hate for that.
So the fact that I pushed through all of that, and followed my heart, I'm really proud of myself. I'm truly living my dream.
I'd also like to mention: I'm so lucky I had a supportive mom. She's always encouraged me in my journey and my art. I wouldn't be who I am, or where I am without her.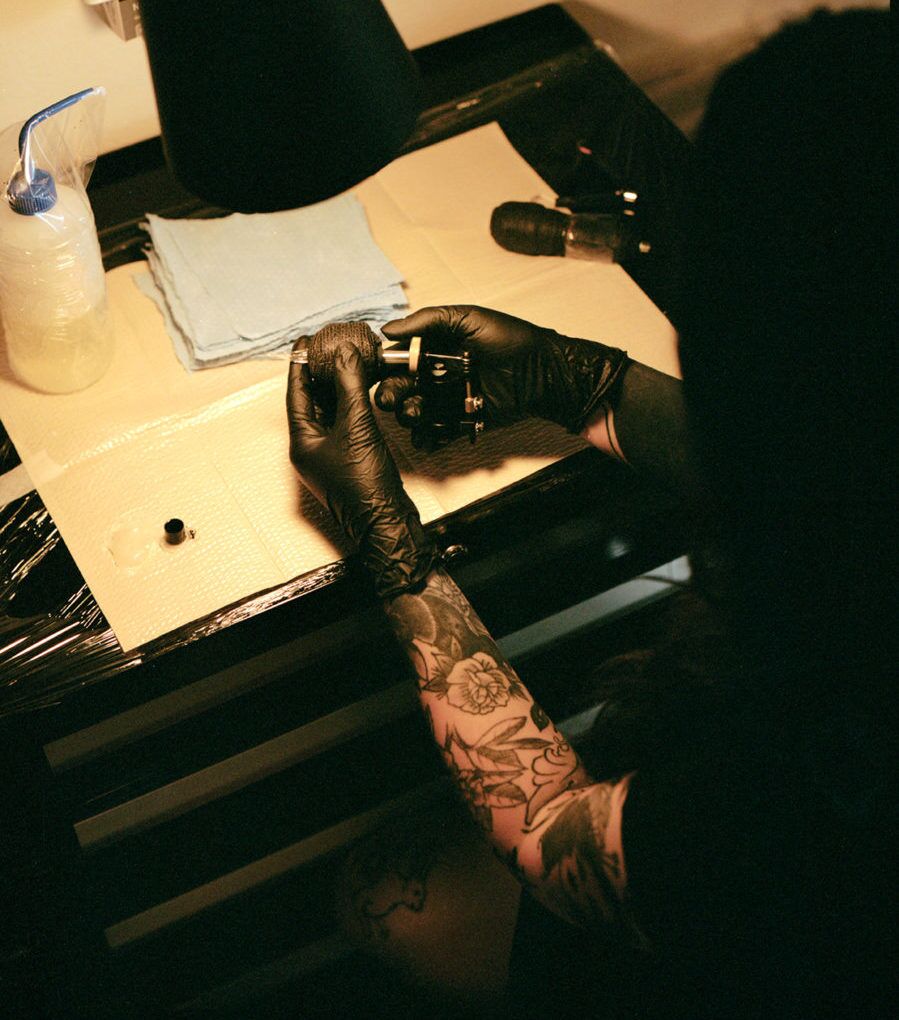 You should definitely be proud of the fact that you chased your goals, and I think your story will resonate with a lot of our community. Also, kudos to your mom for being so supportive. What helped you stay true to your goals to have and do tattoos?
I think what really kept me true to my goals was the support in which I received from some family members and close friends that have always supported my art.
Have members of that community come around to you and your ink at all?
Definitely! When I first started my apprenticeship and started breaking skin, SO many of my friends, as well as siblings, got in line to let me practice on them. I was so scared to tattoo anyone, so the trust that they gave to me was amazing.
What has been your favorite tattoo to do so far?
It is so hard to say which piece has been my favorite thus far because I have so many! But I think that my favorite was actually a flower I had my boyfriend come in and get so that I could practice stippling. I had a total breakthrough and learned how to stipple that day. It just felt like I unlocked something, and I haven't stopped stippling since.
On your Instagram, you show a lot of beautiful black and grey and blackwork tattoos. How did you land on those styles as your trademark?
The fine line blackwork that I do became my trademark mainly because it's the style I enjoy most and have done for so long on paper. It just seemed to translate so well into tattoo form.
Is there a tattoo that you're dying to do for someone?
Just more flora and fauna! I just love how they can flow on the body.
Now let's talk about your own tattoos! What was your first tattoo, and how old were you?
The first tattoo I ever got was actually a stupid little stick and poke heart on the heel of my foot (I had to hide it from my tattoo-hating father). I think I was probably 16? And then my first REAL tattoo was a mermaid on my shoulder blade (still hiding it from my dad).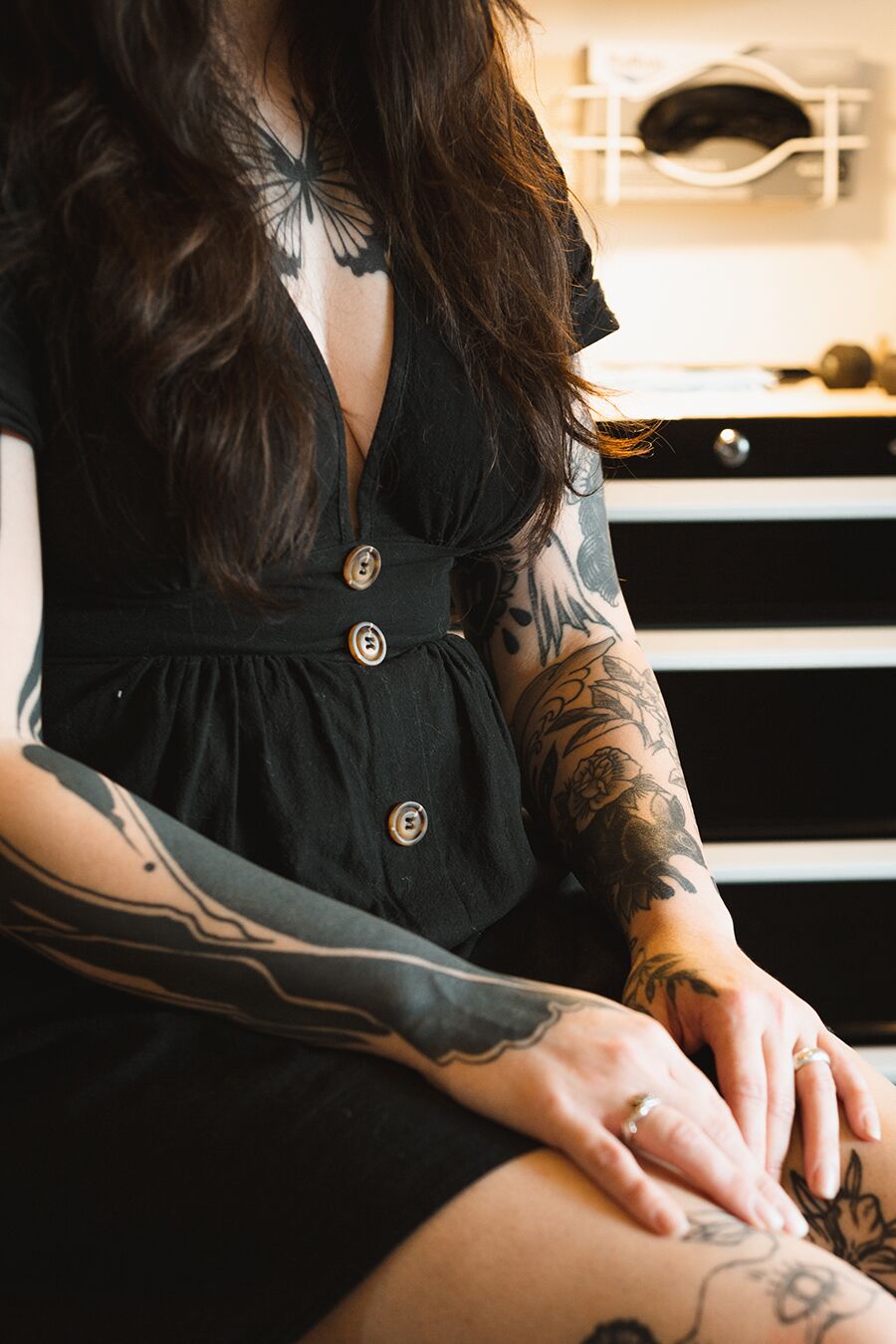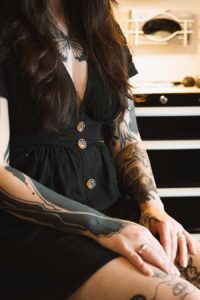 You're clearly not hiding it anymore, because you have two full sleeves! They're both beautiful, but very different too, with one bold and a lot of black, geometric ink and the other more delicate and botanical. Tell me about the inspiration behind them.
Yes! So on my left arm, it's really just a patchwork collection of things I love: bunnies, ladies, flowers, talons…just a real assortment of things.
The organic-black work on my right arm was a piece my dear friend Dani Liberal did on me. It was a concept piece he had been wanting to do for a while and asked if I'd be interested in getting it. Needless to say, I absolutely love it. He took hours hand-drawing it onto my arm to flow with my arm and it took more than 12 hours to do. I call it my armor.
As an artist, do you think it's more or less difficult than the average person to get tattoos?
I feel like I have a pretty decent pain tolerance, so tattooing is doable for me. It absolutely sucks, and anyone that says "I like the way that it feels" is lying (lol). But I do find it very centering, and somewhat therapeutic. So sometimes it's exactly what I need… just a time to really focus on my breathing, and get in-tune with my body.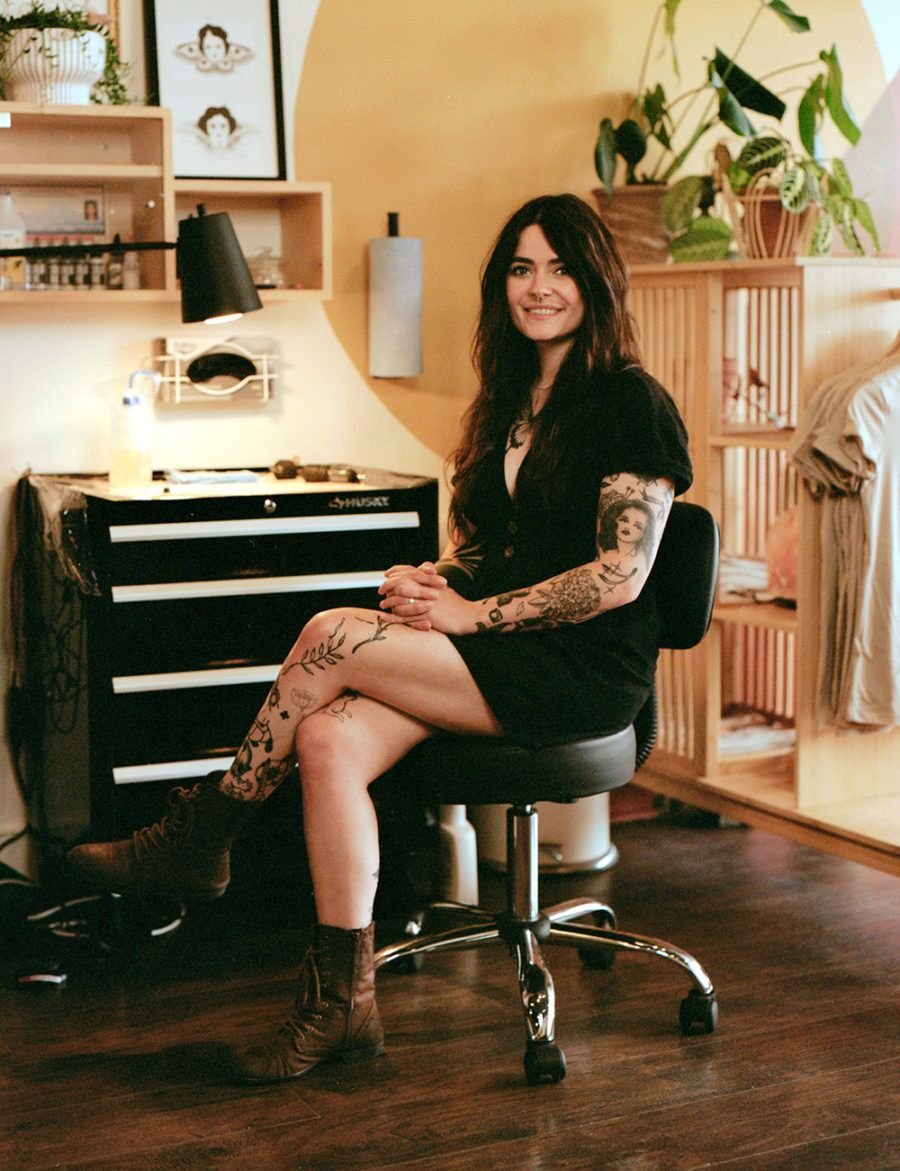 What's the next piece you're getting?
I'm currently working on a large back piece with a rad artist, Chloe Devora. It's a goose with a snake wrapped around it. Definitely one of my favorite pieces so far.
Is there a story behind that? It sounds really cool!
It was actually a piece that Chloe had come up with and posted as "up for grabs." I snagged it as soon as I saw it and she was able to adjust it to fit perfectly to my back.
What's your process for deciding on your own ink? Are you a planner, spur-of-the-moment, deeply meaningful, or get-it-because-you-like-it type of person?
I think I'm am more of a "get-it-because-I-like-it" kind of person. I usually choose something that best fits the artist I go to in order to make it fun for them and show off what they can do.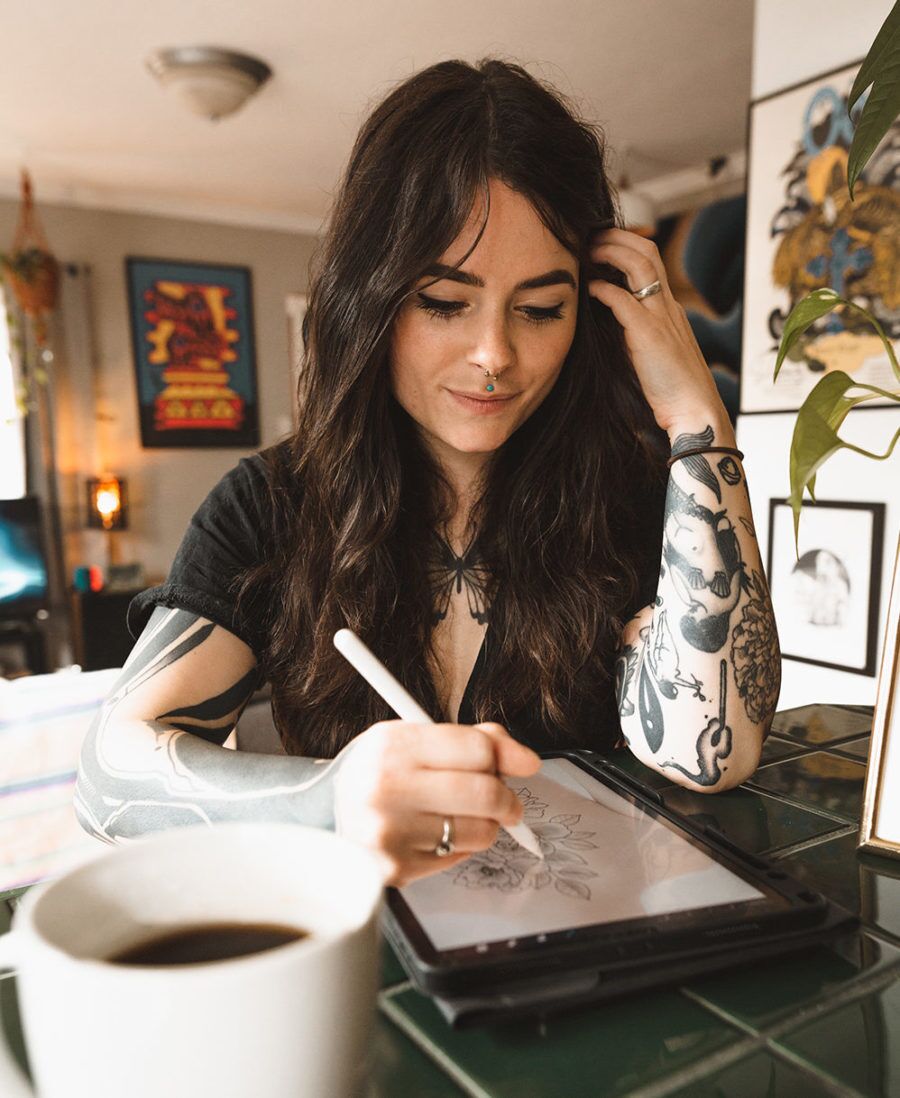 Is there one that's your favorite?
I think I have three that are my favorites.
My chest tattoo, which is a butterfly (done by @niaink on Instagram). This one has given me a new sense of confidence! I'm thrilled with it.
The back piece that I'm working on, a goose with a snake wrapped around it (done by @chloedevora on Instagram). I love it so much – it's definitely the biggest piece I've gotten so far! Wish I could see it better!
And a black rabbit on my arm (done by @vblock.dice). He was actually a huge encouragement in my career. Always giving me tips on drawing and tattooing, even before I started. He helped me figure out Procreate, the app I use for my designs, too. Just a super helpful dude. Always down to help me.
Are there any that you regret?
Not really, honestly. Before I started tattooing, I definitely bought a tattoo machine and tattooed quite a bit on my legs at home. There are some really crappy ones…but they have a special place in my heart. Just knowing my urge to become a tattoo artist was so strong and that I was so curious and wanted to learn makes me still appreciate them.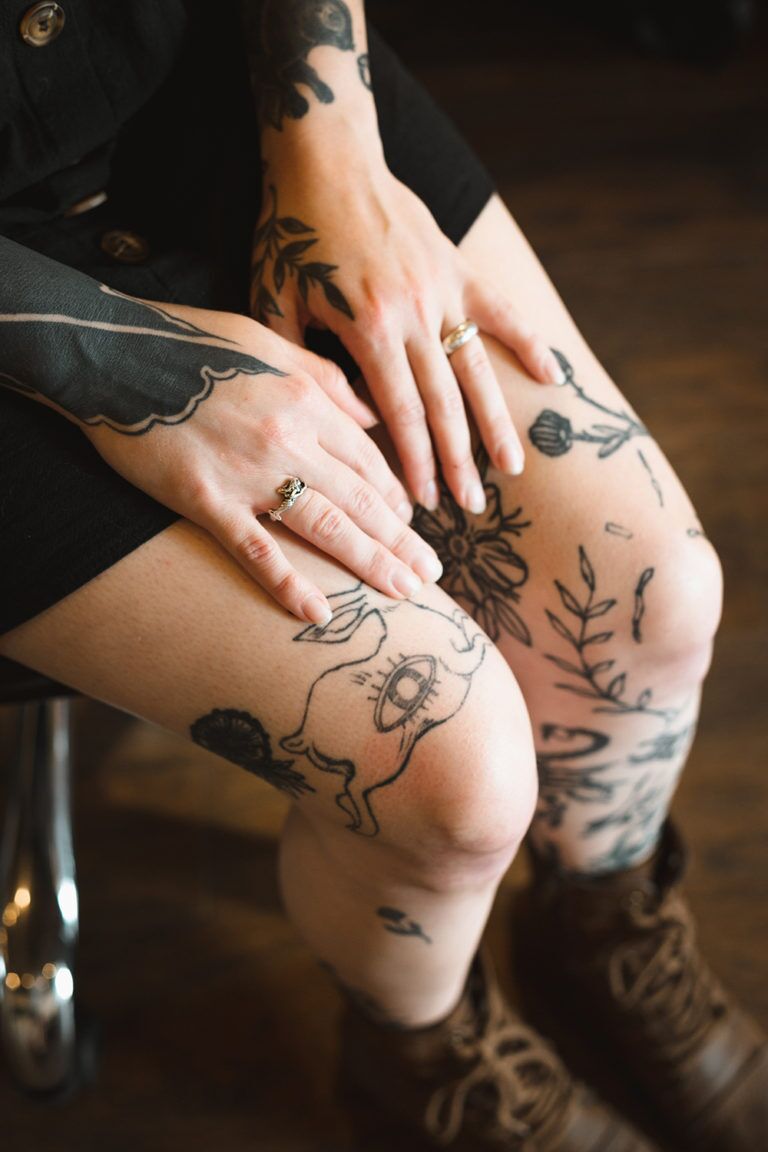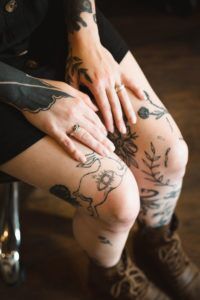 That's such a beautiful perspective. So when you're not in the studio getting inked or inking others, what do you like to do in your spare time?
I absolutely love food and going out with friends. I enjoy spending time with my pets too (three dogs and a rabbit). My boyfriend and I also watch A LOT of Family Feud. One day we are going to be on that game show. Drawing, however, seems to be the thing I do most with my spare time.
I love Family Feud! Is there a category that comes up and you just know you've got the answers?
Haha, I'm not sure if I could say! But I think I play somewhat decently. I can always get a handful of the answers!
I also saw a photo of your watercolor paintings on your Instagram. They were beautiful!
Lately, I have been so busy with custom pieces that I haven't had a lot of time to play with watercolors and other mediums. But during the first quarantine, I was able to paint so much! It was honestly such a nice break and I was able to make a lot of art.
Definitely a positive outcome of the pandemic! And if people want to follow you and your art, where can they find you on social media?
Instagram is the only one I've got so far! I'm @obsidian_rabbit.
Before we wrap up, one last question: what is YOUR message that you'd like to share with the world?
Don't let anyone tell you that you can't. Because you can.
There will always be people that discourage you from your dreams… DON'T LISTEN TO THEM. Follow them with all your might.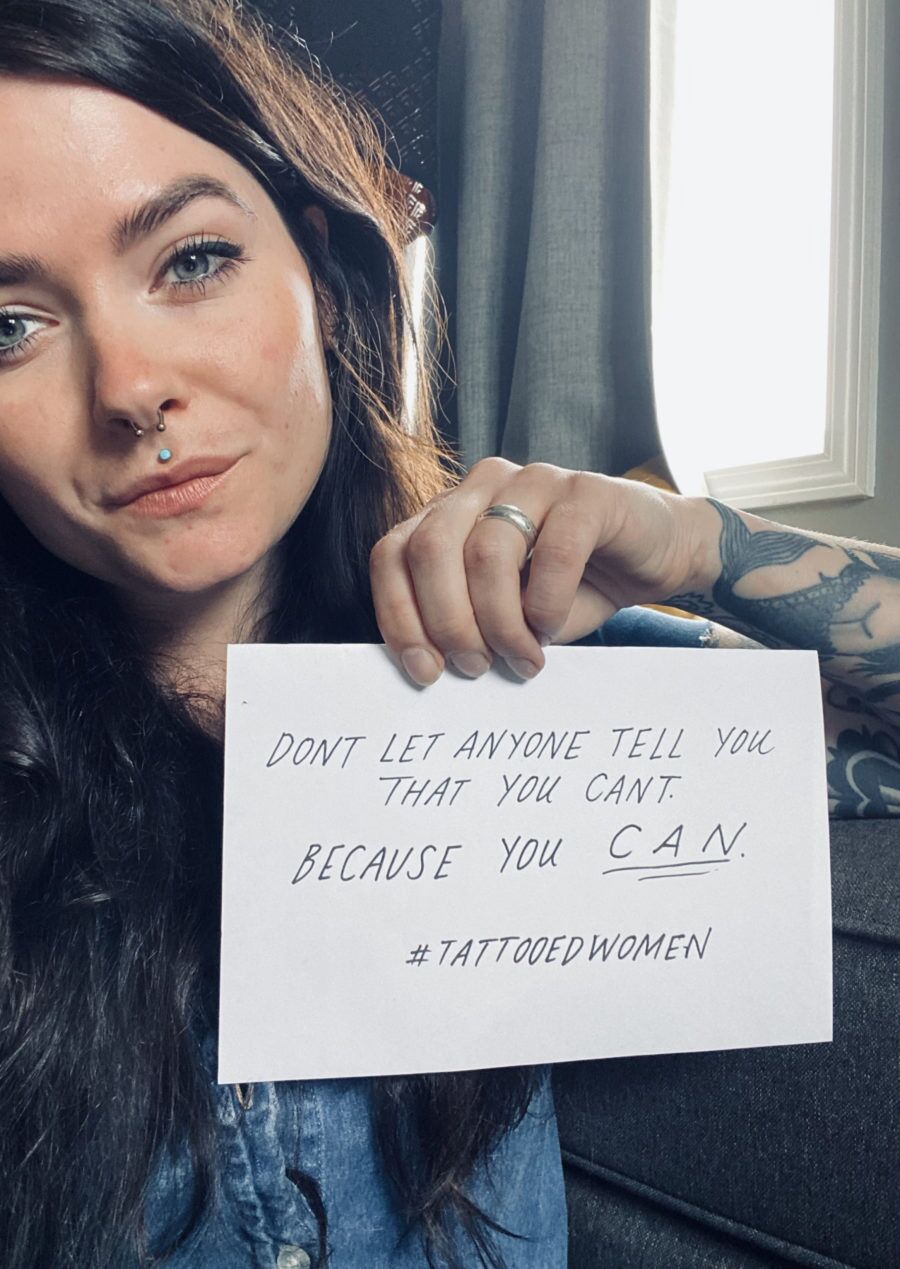 Thank you, Emma!